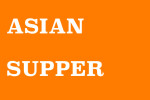 Join EAST on Thursday, October 17th at 6:30 pm
EAST (Episcopal Asian Supper Table) is a ministry of the Diocese of New York that creates community for Asian-Americans and Asians living in America.
Their next event, Where Do You Hear God's Voice?, features Kris Ishibashi, ministry starter and former warden at St. Michael's Church. RSVP by October 15th.