Learning is a lifelong journey

—

an adventure of asking questions about God, the Bible, ourselves and our world.
St. Luke's encourages our members and friends on this journey and offes educational opportunities through our Adult Education program, each September through May. This includes (but is not limited to) Bible study, book study, lectures, and workshops. Our Adult Education courses offer lively and challenging discussions in a small group setting, with inspiring and stimulating guest speakers who are experts in their fields.
Recent series include an in-depth examination of the Reformation and Anglicanism, exploration of the sacred texts of Islam and the Qur'an, the Book of John, Women in the Bible, and the Psalter (Book of Psalms).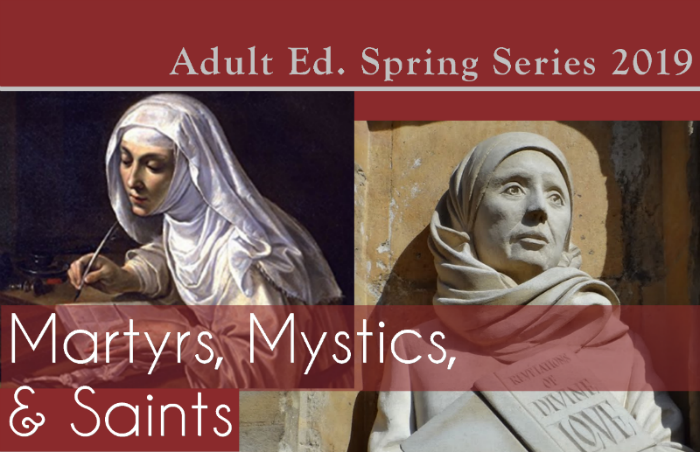 Adult Education Spring 2019
Martyrs, Mystics, & Saints
Mondays February 4th – May 20th, 2019
7 o'clock in the evening in Laughlin Hall
Martyrs, Mystics, & Saints is an exploration of the lives, work, and deaths of specific Christians whose exemplary devotion to the Gospel of Jesus Christ continually inspires us today as followers of Jesus on our journey into the heart of God.
Guest Speakers:
The Rev. Barbara Crafton – priest, author, and spiritual director
The Rev. Dr Euan Cameron – priest and professor at Union Theological Seminary
Mrs. VK McCarty – teacher, writer, and retired theological librarian
February 4 - Martyrs of Japan, Martyr (Guest Speaker The Rev. Barbara Crafton)
February 11 - Margery Kempe, Mystic
February 25 - Polycarp of Smyrna, Martyr
March 4 - Evelyn Underhill, Mystic
March 11 - Martin Luther King, Jr., Martyr
March 18 - Thomas Merton, Mystic
March 25 - George Herbert, Mystic (Guest Speaker The Rev. Dr Euan Cameron)
April 1 - Pauli Murray, Saint
April 8 - Catherine of Siena, Mystic
April 29 - Gregory of Nyssa & Macrina, Brother & Sister Mystics (Guest Speaker Mrs. VK McCarty)
May 6 - Lady Julian of Norwich, Mystic
May 13 - Perpetua: Why Martyrs Matter (Guest Speaker Mrs. VK McCarty)
May 20 (Final Class) - The Venerable Bede, Saint
No class on February 18, April 15, or April 22.
For more information please contact Fr. William Ogburn at 212.924.9327 or