Welcome to Saint Luke in the Fields
We hope you will feel welcome the moment you step on to the block. We may not be operating in the same way, but we are still here for you.
The Church Is Open!
Weekdays 10am-3pm (Tuesdays doors close at 1pm)
Parish Office is open for appointments only. Please contact us to schedule your visit.
Barrow Street Garden is open daily. Click here for hours and protocols.
Summer Sunday Worship Schedule
Holy Eucharist at 10:30 am
This service will be held in St. Luke's School Auditorium - enter on Hudson Street.
Join us for In-Person Coffee Hour on the Playground following the 10:30 am service. Virtual Coffee Hour will be held at 12:30 pm. For Zoom access, please email us.
Weekday Worship Schedule

Said Rite II Eucharist on Wednesdays at 12:00 pm
This service will be held in St. Luke's School Auditorium - enter on Hudson Street.

Visit our Online Worship page for more information on how to remain spiritually engaged with St. Luke's during the COVID-19 outbreak.


GARDEN HOURS*
Monday - Friday, 9am - 5pm. Last entry at 4:30pm.
Saturday, 12pm - 4pm. Last entry at 3:30pm.
Sunday, 11:30am - 4pm. Last entry at 3:30pm.
Masks must be worn for the duration of your visit.
Gloves strongly recommended.
Read our Full Guidelines.
* Due to CoVid-19, we are opening only the Barrow Street Garden on a limited basis.
The Church of St. Luke in the Fields
487 Hudson Street
New York, NY 10014
PH: 212.924.0562
An Inclusive Neighborhood Parish
The Church of St. Luke in the Fields is a lively, inclusive Episcopal Church located in the heart of New York City's Greenwich Village.
An Episcopal Church, and part of the world-wide Anglican Communion, we are grounded in the rich Anglo-Catholic liturgical and musical tradition. We reflect the variety of peoples in our world: different genders, sexual orientations, all forms of families, all abilities and special needs, in every economic grouping, and from many cultures – all one in the body of Christ.
Wherever you are in your life with God - whether a hesitant searcher or a long-time churchgoer - we invite you to think of St. Luke's as your spiritual home.
Get Involved
Mission Vision Values
A Brief History
As members of the body of Christ gathered at St. Luke in the Fields, we are called to ministries of worship, witness, formation and hospitality. We seek to ensure that the Church of St. Luke in the Fields. will continue to add to the legacy we have received, and to participate fully in the life of both our city and the larger church.
Mission
We gather to worship, witness, learn, grow, and serve, creating Jesus' embrace through outreach, arts, educational programs and the sanctuary of our church and gardens.
Vision
We joyfully join the Holy Spirit to transform this world into the kingdom of God, celebrating the diversity and dignity of all creation, connecting people to each other and to the Divine.
Values
We set scripture, prayer and sacraments at the center of our communal life.
We practice inclusive hospitality, valuing diverse experiences and contributions from our parish, our neighbors, and the wider community.
We honor our progressive Anglo-Catholic heritage through our service at the altar and our service to those in need.
We strive to be good stewards of the resources God has given us, giving our highest and best to God in all that we do.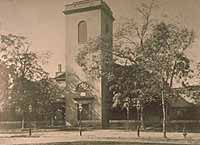 On October 22, 1820 a small group of residents of the riverfront village of Greenwich gathered at the home of Catherine Ritter to organize an Episcopal church for their growing community. They named the church after St. Luke, the physician evangelist, in recognition of the village's role as a refuge from the yellow fever epidemics that plagued New York City during the summers. Read more here.