Gay Pride and my formation as a Christian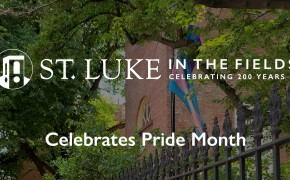 The year 1984 was a momentous year not only for George Orwell but for me as well.
I had finally come out to my Father. My Mother already knew and said "let's keep it from your Daddy as it would kill him". It didn't at least not for another 25 years. I had also received a promotion to manager of the Information Technology department for Philip Morris in New York. I had a corner office on the 17th floor of 100 Park Avenue and an apartment in Greenwich Village. I thought I had arrived.
After moving in, I found my "watering Hole" to be The Monster. There around Bobby Peacoe's piano, bellowing out songs from Broadway musicals, I began to hear the whispers about the "Gay Plague" that was killing gay men: "did you hear about Joe", "Billy's back in the hospital", "has anyone seen Max", on and on it went. Young and beautiful men began wasting away to skeletal wraiths. More and more heart breaking visits to St. Vincent's hospital became the norm.
Not long after my transfer to New York, my Sister began pestering me to go back to church. "You need to go to St. Luke's." was her repetitious plaint. it seems that her Rector had attended General Seminary and while there, he and his wife went to St. Luke's. He told her that St. Luke's would be the perfect place for me. After months of resistance, I finally gave in and went. i had come home after a long absence from the church. Here I found my people: some members of the Mattachine Society ( the original Gay rights activists), budding protesters that later, with Larry Kramer, formed ACT UP. Here at St. Luke's was a Rector and Associate Priests that were totally committed to the full inclusion of LGBT+ community in the life of the Church. I had indeed finally arrived. Gay Pride all year long.
I was immediately drawn to a relatively new ministry at St. Luke's, the PWA supper. It was started first as an outreach to the parish family and neighbors and grew into 100+ weekly clients from all boroughs. Chefs Susan Schultz and Tom Montgomery, encouraged volunteers to have a meal with the clients. Food and hospitality was the rule here. Under Susan and Tom's tutelage, I honed my cook's skills and eventually headed up the Parish Life committee. The committee was responsible for the procurement of food, preparation, serving and cleanup for all parish events.
Our Gay Pride celebrations are known through out the City. A festive Evensong with our professional choir followed by a reception in the garden. Participation in the parade has been exceptional, from "We are family" banners and masks, to Simon Carr's "Lift high the cross" float. Congregational support from both the LGBT+ members and straight allies make it into the success that it has become.
Through participating in these ministries and in the prayers and sacraments, I am able to take my baptismal vows seriously.
Will you seek and serve Christ in all persons, loving your neighbor as yourself?
I will, with God's help.
Will you strive for justice and peace among all people, and respect the dignity of every human being?
I will, with God's help.
Bobby Rough
Gay Pride 2020