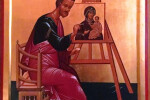 There's a little door at the side of the church,
Rarely used,
Cut into the wall like a wound.
It leads to a small hallway
By the side of the nave
And it's how I like to come in.

There's a seat at the back, last pew on the right
On the side
Of the church where the shadows fall.
The one for stragglers and doubters
Late-comers and You,
And it's there where I like to sit.

There's a lost bench in the Barrow Garden
by the parking lot-
Of late locked: "Do Not Enter."
They sang a Tallis miserere
At the service today
And I rest there to remember:

There are many roads leading to death, she said
In her sermon,
But only one to resurrection.
And it passes only through You
And terrible loss
And the paradox of the cross.

3/22/2018
by Michael Laurence