Thank you for clicking on this link.
As neighbors, we can address our shared needs, particularly for the most vulnerable: our elders, people with certain medical conditions or without health insurance, children left home from school, and workers who face losing income.
Below are some other ways to address our community's most critical needs.
—
Our rector, the Rev. Caroline Stacey extended a plea to those who continue to have a bounty of financial resources to consider a donation to clergy discretionary funds. Many social services programs and resources are already closed in the city, and this is an immediate and practical way for you to help your clergy assist others. From the Discretionary Funds our clergy give direct grants-in-aid to those in need: no delay, no red tape, no forms to fill out, no deduction for administrative overheads.
The simplest way to strengthen our hand is by a single check payable to Rector's Discretionary Fund and the business office can then route monies to other clergy discretionary funds. Donations can also be made online via credit card through our donation portal by selecting "Rector's Discretionary Fund" from the drop-down menu.
—
If you have connected with any elderly or vulnerable people in the St. Luke's community, please let our clergy know how they are doing.
New York Cares is the go-to volunteer recruiter for New York's not-for-profit organizations. They are now actively recruiting and training volunteers to help with food assistance programs that are affected by the COVID-19 crisis in New York City, and for other opportunities, both on the ground and virtually. Their organizations are following safety requirements and they have dedicated volunteer Team Leaders on site at the programs to support their volunteers. Sign up to volunteer by clicking here.
Episcopal Charities is also training and placing volunteers, both individually and in small groups, with stringent health and safety requirements for volunteers and for the sites they serve. Sign up to volunteer by clicking here.
Idealist has been connecting people with opportunities for social impact and action for over 25 years. Known for their job board for the nonprofit sector, Idealist also has a directory of volunteer opportunities and community-based groups for Mutual Aid. They now have search filters for 'virtual/remote" volunteering and 'COVID-19'. Click here to check out current impact opportunities through Idealist.org.
Manhattan Together & South Bronx Churches IAF are actively surveying people for volunteer positions at food assistance programs across New York City, in addition to other opportunities. They are looking for volunteers across a wide variety of locations & capabilities. If you complete a survey, they will review it and connect you with an organization. Click here to fill out their survey.
—
Critical resources hit hard by this crisis include blood banks and food banks.
Sign up to donate blood HERE.
Find out where to donate food HERE and HERE.
—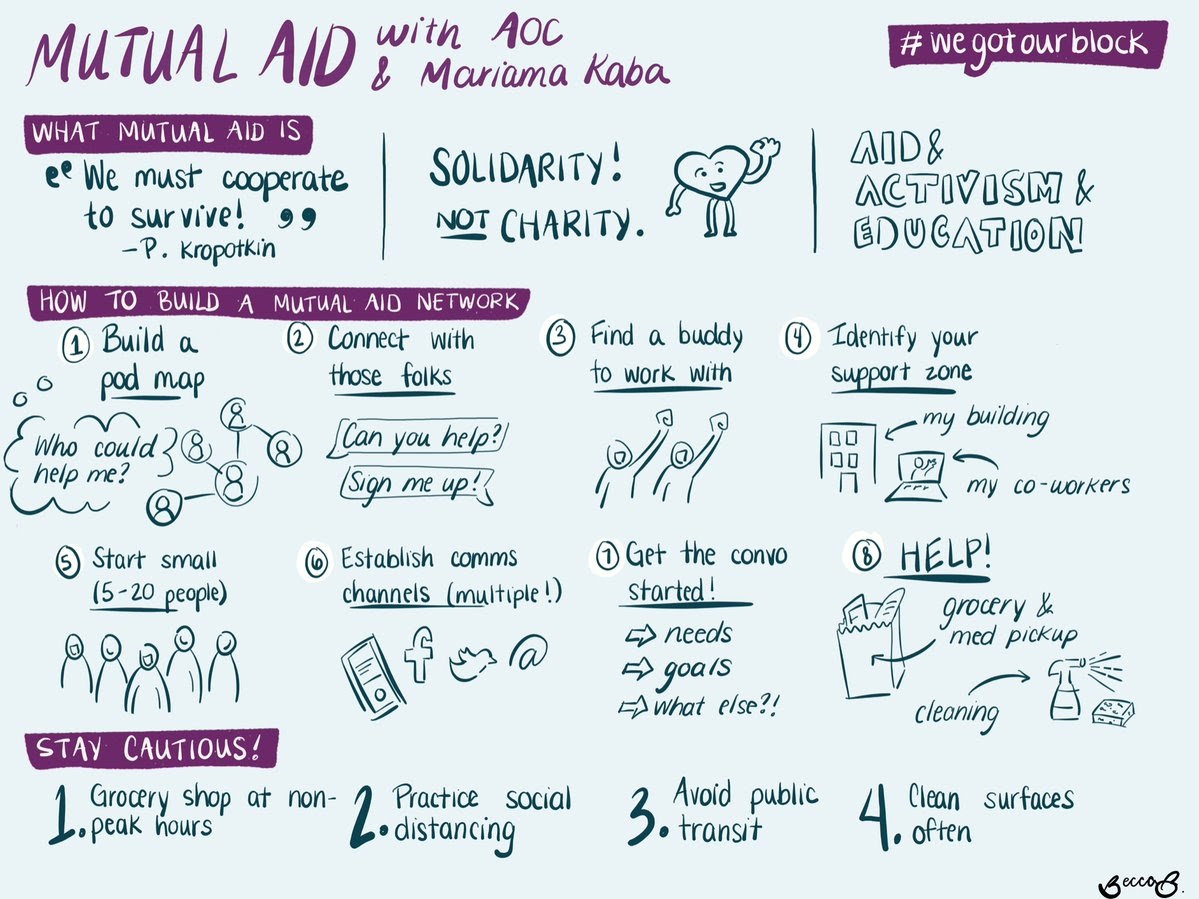 Consider forming a mutual aid group in your building, block or neighborhood.
HERE is a Mutual Aid Toolkit to get started, released by AOC & Mariame Kaba on Mar. 18.
HERE is a flyer for you to download & edit, & place (with washed hands) on your neighbors' doors.
—
HERE is a wonderfully comprehensive document with info and resources for New Yorkers to respond to coronavirus.
Through links within it, you can sign up to do childcare or food delivery, donate to relief funds, volunteer for New York Cares COVID relief, and more.
—
Coronavirus Conversations
Be Social Change is hosting experts for live, virtual events to discuss what we can do to (a) protect our mental health & support that of our loved ones, and (b) help our neighbors & community, and get plugged into nonprofits & businesses now launching important work to be of support.
—
Community Resources
Get Food NYC
Map of free food resources across the city, including food pantries and Grab & Go meals at NYC Schools, available for all children or adults in need.
NYC Food Delivery Assistance
If you cannot go out to get food, no one can bring you food, and you are not able to use private delivery options, New York City will deliver emergency meals to you in the coming days. Check your eligibility and sign up.
Abingdon Square Greenmarket
Hudson & West 12th Streets
Open Saturday 8:00 am – 2:00 pm
Food Scrap & Clothing Collections are cancelled until further notice.
Only vendors and staff may handle produce. Practice safe 6' distancing.
See greenmarket guidelines.
Blackstone Coffee Roasters
502 Hudson Street
Open Monday – Sunday 8:00 am – 6:00 pm
Tel: 212.989.6131
Online ordering through seamless.com, delivery.com, doordash.com & grubhub.com. Will home deliver to St. Luke's Parishioners unable to access online ordering.
Grove Street Pharmacy
302 W 12th Street
Tel: 212.929.7527. .
Opening hours as normal. Prescriptions can be refilled online or over the telephone.
Health & Harmony
470 Hudson Street
Opening Hours 8:00 am – 7:00 pm (subject to change), Tel: 212.691.3036
Some stock is low. Awaiting deliveries. Most product lines available. Call to confirm specific product availability.
Hudson & Charles Butchers
524 Hudson Street
New Opening Hours: 11:30 am - 6:30 pm
Tel: 212.675.7075
Offering special opening hours for Seniors Only.
Orders & home delivery and can be organized through Kevin, Jay & their staff by .
New York Chemists
77 Christopher Street.
Hours as normal. M-F 9:00 am – 7:00 pm. Sat: 11:00 am – 5:00 pm.
Tel: 212.255.2525
Prescriptions can be refilled online or by .
New York Public Library
Hudson Park & Jefferson Market Branches
Closed until further notice. All due dates have been extended and late fees suspended. Keep borrowed books and materials at home until libraries reopen.
Ready To Eat
525 Hudson Street b/w W.10th & Charles Sts.
Modified Hours: 10:00 am – 8:00 pm, 7 days a week.
Curbside and instore pick up operational with customer inside limit. Delivery platforms include grubhub.com, caviar.com, seamless.com & ubereats.com
OR, call directly (Tel: 212. 229.1013) OR email through the website.
Meal prep on a weekly basis is available if you are self-isolating. Contact Chef Rami to prepare a tailor-made menu.
Village Apothecary
346 Bleecker Street
Pharmacy is open M-F 8am-8pm. Sat 9am – 6pm. Sun. 10 am – 5 pm. Tel: 212.807.7566
Pharmacy preference is to have RX refilled via their online ordering system for free home delivery. If you wish to visit the Pharmacy, please note that admittance is limited to one customer at a time.
*Please note that due to COVID-19 and as per government directives, we have closed the St. Luke's Gardens until further notice.
—
If you don't live in NYC, you can find your local resources via this Coronavirus Resource Kit.
—
Remember: We are in this together. Here's to moving forward in a spirit of solidarity, not charity.