Baptisms Weddings & Marriage Blessings Funerals CONTACT US
Baptisms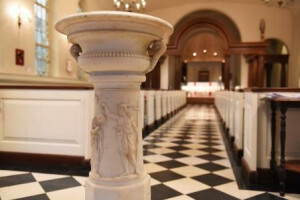 "Baptism is both God's gift and our human response to that gift. It is a sign and seal of our common discipleship. Through baptism, Christians are brought into union with Christ, with each other and with the church of every time and place."
(Baptism, Eucharist and Ministry, World Council of Churches, 1982)
St. Luke's welcomes people of all ages into the Christian church through the sacrament of baptism.
Infant baptism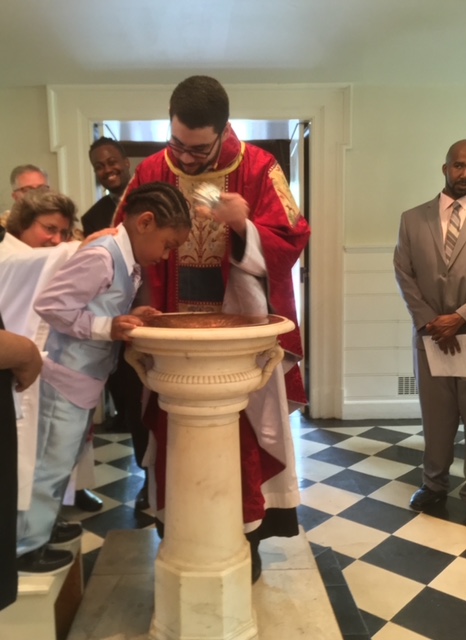 Infant baptism is the practice in which parents thank God for the gift of a child/children, make a commitment to start the child on the journey of faith and ask for the Church's support. St. Luke's celebrates the baptism of babies and children on five feast days throughout the year: the baptism of our Lord (in January), Easter Eve (usually in April), Pentecost (usually in May/June), All Saints' Day (first weekend in November), and on one Sunday in July or August. There are no private baptisms, as this rite of welcome requires the participation of the congregation. Parents who have decided to make St. Luke's their spiritual home are invited to contact an Associate to discuss the meaning and importance of baptism, and to schedule the appropriate date and time. Contact the Church Office 212-924-0562 or email The Rev. Caroline Stacey at

Adult baptisms
Adult baptisms are celebrated on Easter Eve. For more information about preparing for Adult baptism, confirmation reception or reaffirmation of baptismal vows can be found in the Formation Program page.


Weddings and Blessings of Civil Marriages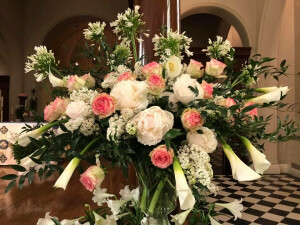 The sacrament of marriage, or a holy union, is a covenant between two people entered into before God in the church. It is never seen as a private event, and for that reason weddings take place in the presence of Christian witnesses and guests. It is a lifelong commitment by two people to love, honor and cherish one another through life in faithfulness and true godliness.

At least one person must be baptized. Persons desiring to marry or have their civil marriage blessed must contact one of the clergy to begin preparation and to ascertain a date that is available. In general the preparation must begin at least six months before the date of the ceremony. There will be a minimum of three meetings between the couple and the priest. Often there are four or five meetings. If either person has been married previously, proof of certificate of divorce will be necessary.
Please contact Fr. William Ogburn at


Funerals
A funeral is used to mark the end of a person's life here on earth. Family and friends come together to express grief, give thanks for the life lived and commend the person into God's keeping.
St. Luke's supports our community in these important and often difficult times. We hope that the following information will help you to decide how best to move forward.
Funeral or Memorial Service
During a funeral service, a casket or urn is present, and the funeral home will contact the church to make arrangements for the service. A loved one's remains are not necessary for a memorial service, though sometimes an urn is present. The service may be scheduled shortly after death or at the convenience of the family. The Holy Eucharist is normally part of the funeral service.
Burial
If you wish a member of the clergy to lead a burial service at the graveside, please schedule this in advance. St. Luke's does not have a graveyard. There is a columbarium (niches for funeral urns to be stored) in the church. For more information about the columbarium, please contact , Fr. William Ogburn at
Planning for a Wedding or Funeral
Scheduling the use of the church
Prior to making any arrangements, please contact the Parish Office at 212-924-0562 or to arrange to speak with a priest. This will assure that the church and a member of the clergy will be available to meet your needs.
Music
The Director of Music will arrange for an organist if you desire it, unless other music is requested. When planning the service, appropriate musical selections will be discussed. Hymns, sacred songs and other musical selections are "live" (not recorded) and not amplified for worship services.
Questions?