01.15.20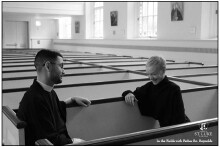 Tags: church, lgbtq, bicentennial, stlukeinthefields, westvillage, villagehistory, choir@stlukes, villagelife
Welcome to 'In the Fields...'
The first in a series of podcasts that celebrate the Bicentennial of the Church of St. Luke in the Fields through history, story and conversation. In this inaugural episode, Associate Father Bo Reynolds and Archivist Lani Steinberg discuss the social origins of the third oldest church in New York City, Village life and keeping the faith in the 21st Century.
The 'In the Fields' Podcast is produced by the Church of St Luke in the Fields and engineered by Michael Talbot.
Music Credits: Giovanni Pierluigi da Palestrina's Missa Tu Es Petrus performed by the Choir of St Luke in the Fields under the musical direction of David Shuler.