03.01.20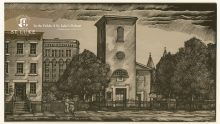 Category: In the Fields
Our second episode features a conversation with the Church's unofficial historian and formal Formation educator Professor Don Gerardi about St Luke's tradition of social progress and engagement, its theological foundations and the fascinating characters that helped found and tend the Village fields and flock over 200 years .
The 'In the Fields' Podcast is produced by the Church of St Luke in the Fields and engineered by Michael Talbot.
Music Credits: Giovanni Pierluigi da Palestrina's Missa Tu Es Petrus performed by the Choir of St Luke in the Fields under the musical direction of David Shuler.