In Our Fields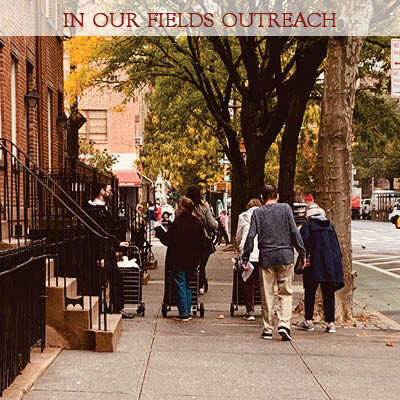 In Our Fields
Updated November 2022: In Our Fields has been suspended indefinitely.

On Saturday, we gather at 487 Hudson Street to make and distribute meals, and hygiene kits. We then go out in pairs or groups to distribute them, with water bottles and neighborhood resource lists, along routes nearby where we encounter folks who might need them. All staff and volunteers wear a mask and practice social distancing. Please email Jill if this is your first time volunteering with In Our Fields.
You can sign up for a volunteer shift here. The shift runs from 11:00 am to 1:30 pm, every Saturday. We welcome you to come for all or part of the volunteer shift. Helping with prepping the kits and meals, even if you don't go out to distribute them, is greatly appreciated.
Please consider donating to our Amazon wish list for health care kits.