The Choir of St. Luke in the Fields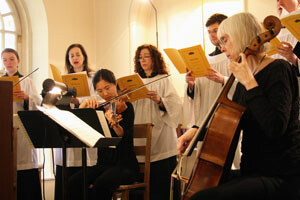 The Choir of St. Luke in the Fields is a professional ensemble made up of some of New York City's finest singers. In addition to singing at St. Luke's, members of the choir have performed and recorded with ensembles such as New York's Ensemble for Early Music, Pomerium, BachWorks, Artek, Concert Royal, Western Wind, the American Bach Soloists, Anonymous Four, My Lord Chamberlain's Consort, the Clarion Music Society, Trefoil, the Orlando Consort and the Metropolitan Opera Chorus.
As part of the liturgy at St. Luke's Church, the Choir regularly performs masses and motets that date from the fifteenth century to the present. The Choir has presented a number of premieres, including the New York premiere of Arvo Pärt's Berliner Messe and Missa Sillabica as well as Dan Locklair's Brief Mass. The choir is featured in an annual concert series. The North American premiere of Georg Phillip Telemann's St. Matthew Passion of 1746 was part of the 2003 Concert Series, and in 2011 the Choir presented the critically acclaimed NY premiere of C.P. E. Bach's St. Matthew Passion of 1769.

The Choir received a grant from the Mary Flager Cary Trust in 1998 to record Colorado composer Richard Toensing's Responsoria, a large scale concert setting of the Tenebrae responsories for Maundy Thursday, Good Friday, and Holy Saturday scored for six-part choir, piano, percussion and double bass.

The Choir is also featured on a recording of Christmas music, A Ceremony of Carols: Christmas at the Church of Saint Luke in the Fields, and on a CRI disc The Music of Frank Wigglesworth, which includes choral works by the Greenwich Village composer written for St. Luke's. The Choir's 2018 recording of Giovanni Pierluigi da Palestrina's Missa Tu es Petrus was recently featured in Classical Music Daily.

Excerpts from the 2009 Music at the Sistine Chapel concert were featured on an ABC news documentary, Secrets of the Sistine - Michelangelo's Mystery.