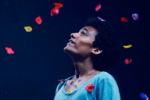 Friday, June 14 - 7:00 pm - Saturday Church
On Friday, June 14, at 7:00 pm, you are invited to a free showing of the feature-length film Saturday Church, held in the St. Luke's School auditorium.
Saturday Church was inspired by writer/director Damon Cardasis's experience volunteering at Art & Acceptance. The coming-of-age film is the story of a shy 14-year-old named Ulysses, who struggles with his gender identity while becoming the "man of the house" after the death of his father. He finds a family in a vibrant young transgender community, who take him to "Saturday Church," a program for LGBTQ+ youth that is based on the Art & Acceptance program. These friends help Luka begin to discover his identity and find his voice. Luka Kain, who plays Ulysses, won Best Actor at OutFest for this role. The film also showcases trans actors Indya Moore and MJ Rodriguez, who now star in Pose. There is no charge for admission, but we welcome donations of travel-size toiletries or two-ride MetroCards for our Art & Acceptance guests. If you have any questions, please write Simone at .