Go Project 2020
In light of some incredibly stark challenges, GO Project was able to flexibly and rapidly devise innovative solutions — some of which will remain after COVID-19 is far behind us.
The pandemic's eradication of nearly three months of school meant that GO students were at heightened risk of suffering deep learning loss — data suggests that for some grades, the "COVID slide" could result in students returning to school nearly a full year behind. In addition to the academic challenges GO students face, the pandemic has exposed widening equity gaps for the low-income families that GO serves. Families are experiencing extreme hardships such as job loss, food insecurity, housing uncertainty, childcare challenges, and healthcare issues — in addition to the task of engaging their children with learning at home.
It was immediately clear that one of the biggest opportunity gaps now involved technology. The team mobilized to support GO families getting what they need, by providing tablets, laptops, Internet connectivity, and technical support navigating the DOE Remote Learning Device Request Forms. GO's family case management programs shifted to daily or weekly multi-lingual communications with families, to share resources such as food bank locations and policy updates such as rent moratoriums. And GO social workers responded to hundreds of households' requests for assistance with a growing list of hardships connected to the COVID crisis, including food insecurity, employment loss, housing uncertainty, and childcare.
The biggest transition was, of course, to remote learning, with new virtual help desk and remote tutoring programs, which supplemented online learning platforms provided by the DOE. Students received 1:1 direct support twice a week. Multi-lingual volunteers were mobilized to ensure online tutoring sessions included participation from family members, in order to build household capacity for home learning.
July and August saw the brand-new GO Summer At Home expand what had been learned, with Instructional Services, Social Emotional Support, Community Building, and Family Programming. Students adapted to the new models, easily balancing self-paced work with group work. Amazingly, remote Summer GO students' participation in at least one daily session was 87%, the same as in the few previous "live" years. Over 90% of students in the Reading Resource program grew more than one reading level over the summer.
Positive bright spots during this pandemic GO season include: opportunities for many more social and emotional enrichment activities during the school year, not just on Saturdays; and, the expansion of the Reading Resource program to add some weekdays in addition to Saturdays, the impact of which could have lifelong benefits. GO Families team is also growing, with new multilingual permanent positions of resources and support.
St. Luke's is unwavering in our support for GO Project & we have continued to commit regular financial contributions, to help advance all the GO students across Manhattan and Brooklyn, as well as their families. We are grateful for this partnership & for all the amazing work of GO.
Galilea, 2nd Grade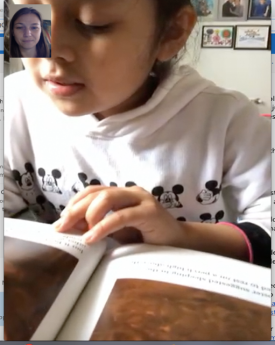 Galilea is in 2nd grade and loves to read! GO's 1:1 virtual tutoring support has helped her and hundreds of other GO students keep up with their homework since schools closed. Galilea's tutor focuses on completing reading comprehension assignments. Pictured here is Galilea reading Frog And Toad All Year.