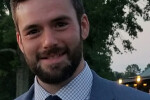 Interview with Kevin Hausmann, Director of Curriculum and Instruction at GO-St. Luke's
Because of the timing, most of St. Luke's parishioners, parents and teachers don't get to see GO Project in action, with GO Project students filling the classrooms and playgrounds of SLS. [GO School runs on Saturdays during the school year, and GO Summer is Monday through Friday in July and August.] What do you think would be important for the church and school community to know about GO?
Well, I think our overall mission is really important – it's to close the opportunity gap for low-income New York City public school children by providing critical academic, social, and emotional support starting in the early elementary years. Our approach is very unique, with very small class sizes, so no more than 15 to 16 in each class, along with a head teacher, student teacher and several volunteers. So we have 3 to 5 dedicated people there for those kids in every single classroom, which means anywhere between a 3-to-1 and a 5-to-1 ratio.
During GO School, because we have only a short amount of time once a week, our program focuses on English Language Arts and mathematics, but we also have a strong character education program. We come together every single Saturday as a community with Harambee. [Harambee, meaning "come together" Swahili, is GO Project's morning community ritual to come together and start the program with positive energy, singing & dancing, social and emotional programming, and community announcements for students and families.] At Harambee, we celebrate successes, but we also talk about ways to be more successful through our shared values.
And we're not just here for the students, we're here for the families as well. Every single GO School week we offer workshops to families: how to support their child in school, how to advocate for them, how to navigate special education, and how to support them at home -- as well as programs that just support the families themselves, such as health and wellness. Yes, we have the teachers, and myself as an instructional leader, but there are also social workers that support the students and families, and they follow up during the week as well in the schools -- we have really strong relationships with the public schools the GO students come from.
Your current vocation is special education teacher, and Dean Of Instruction at Ascend, a free public charter school, as well as Director of Curriculum and Instruction at GO Project, where you were Lead Teacher before. What inspires you to spend your working life giving of your time and energy this way?
I kind of knew pretty early on when I graduated high school and went into college that I wanted to be a teacher. I had a lot of really good teachers in high school. To be honest, I wasn't that great of a student. School, for me, really caught on pretty late. I would say it wasn't until 11th grade that I decided to take things more seriously. I think of the impact that those teachers had on me, and if I didn't have such great teachers, how different the trajectory of my life could have been. I feel I have a calling to have that same impact on the next generation.
But it wasn't until I met the person who became my wife that I understood the social justice aspect of teaching. We're both from Buffalo, and when we moved to New York City, she did Teach for America. That opened up my eyes. I thought, Oh my goodness, there are people in this country for whom education equity is such a big issue. When I got connected with that, it inspired me more to work for an organization like GO Project, to help create more equity.
What do you find most fulfilling about being the DCI of GO at St Luke's?
The connection I actually get to make with all the parents. It's so great when they come up to you and let you know how well their child is doing in school now, giving credit to GO. I get that as a teacher, but on a much grander scale as a DCI, because I get to see not just 15 parents, but over 100 parents from the whole site. The impact that I get to see from all the students is really inspiring. It keeps me going!
What would you say to someone who's thinking about volunteering at GO Project?
First of all: it's a lot of fun. It really is. Whenever I get a chance to talk to the volunteers, they rave about how fun it is. And really, it's the impact you make. Even though you're there as a volunteer, you and the teachers in the room are the ones the students are engaged with. So you really have the biggest impact on the students. Not just in their math or reading, but their social skills too, which are really important. Not just on their Saturday, but in their lives.
Kevin has been with GO Project since 2015 and GO at St. Luke's since the Summer of 2017.